Car rental in Formentera
Pick up your vehicle at the port of La Savina or any of our offices
Enjoy the island of Formentera by car or motobike
Pick up your vehicle at the port of La Savina or any of our offices
Personalized and quality attention
Personalized attention. Management and modification of your reservation without charges.
Customer Support
+34 971 800 229
Advantages of booking with us
Insurance obligatory and VAT included in the prices. No hidden costs.
Deposit ready to move. Pay for what you consume without extra charges.
Delivery and return wherever you want. 6 offices throughout the island.
Personalized attention. Management and modification of your reservation without charges.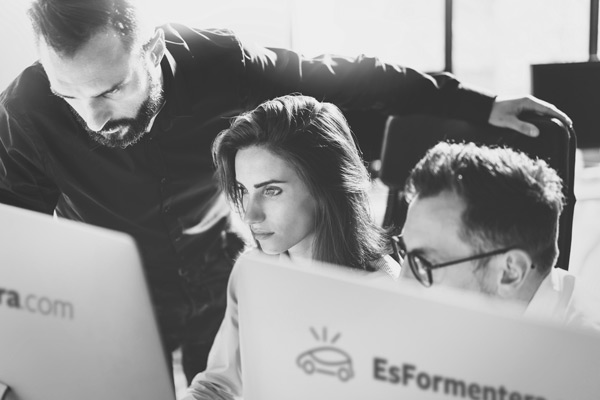 With more than 10 years of experience in the car and motobike rental in Ibiza and Formentera, we are a young company of local entrepeneurs dedicated to the online tourist bookings.
Visit Formentera by car or motorbike
The island of Formentera has become the ideal tourist destination for those who are looking for a place to relax and unwind, to enjoy the sun and the beach in addition to a authentic gastronomy. The island offers many places to visit, sunsets and idyllic beaches where you can squeeze your vacations. And there is nothing better than making it up in your rental car, feeling the Mediterranean breeze on your face and the freedom to reach all corners of the island when and as you prefer.
After arriving by ferry from Ibiza, you are approaching to pick up the rental car. Start your adventure!
Recommending just a beach is a complicated task, all of them have an incomparable charm and a very special beauty. Here's our little recommendation for you to enjoy Formentera by car.
Surely you've heard of it … the beach of Ses Illetes, integrated within the Natural Park of Ses Salines. It is an ideal beach to visit by car because it has a big parking very close to the sand. Please be aware on high season as the parking get complete early in the morning. This is without a doubt one of the most beautiful, and not for less! It is one of the best world beaches!
Now we are going to recommend you the beach of Migjorn, where your photos will look like postcards thanks to its immense beauty of turquoise waters and fine white sand. This beach has a large parking where you can leave your rental car to enjoy the beach and eat at some restaurant or beach club without worrying about anything.
You can't miss Es Caló de Sant Agustí, a fisherman's corner ideal for bathing in its wonderful waters and then enjoy a good rice or a "Bullit de peix" in front of the sea. We can't forget Caló des Mort, a small cove surrounded by a cliff, perfect to enjoying the sunset next to Cala Saona.
And speaking about sunsets! You can't miss the one that gives us the landscape in the Cap de Barbaria Lighthouse, an emblematic place that surely you had listened to talk about it because of the movie 'Lucia and the Sex' by Julio Medem.
A little different plan to finish the day, would be to visit the Formentera villages, such as the village of Sant Francesc Xavier, there you will find a great variety of small shops and terraces to enjoy an ice cream.
Another great plan is to visit the lighthouses of the island, before we mentioned the famous Cap de Barbaria where the sunset is a must, but you can also visit the Mola Lighthouse, well known because it appeared in a novel by Julio Verne. It is also worthwhile to observe from the top of the cliff the infinite Mediterranean Sea.
If you want to know more about this wonderful and magical island you can book here your rental car and start planning your trip to paradise.